285px


"Tonka" is an American toy company owned by Hasbro. They are most known for making toy trucks and construction equipment (mostly construction, but also search and rescue, etc.).
History
On September 18, 1946 Mound Metalcraft was created in Mound, Minnesota with three men as partners, Lynn Everett Baker (1898–1964), Avery F. Crounse, and Alvin F. Tesch. The first products produced by the fledgling company were two versions of a metal tie-rack. Their original intent was to manufacture garden implements. However when their building's former occupants, the Streater Company, attempted to market two metal toys and failed, the three men at Mound Metalcraft thought they might make a good side line to their other products.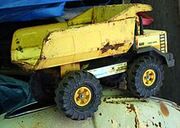 After some modifications to the design by Alvin Tesch and the addition of a new logo created by Erling Eklof with the Dakota-Sioux word "Tonka", which means "Great" or "Big", the company began selling metal toys. This soon became the primary business. The impact of the Tonka truck concept has been enduring and pervasive, especially the Mighty Dump Truck and associated "Mighty" line of construction equipment models introduced from 1964. The all-metal "Tonka trucks" were sold throughout the world and earned a reputation as being indestructible, although the steel has been increasingly replaced by plastic from the late 1980s onwards.
The company was purchased by Hasbro in 1991.
Other Products
Tonka has produced a wide variety of toys over the years, including dolls (Star Fairies, Bathing Beauties Maple Town) and Hollywoods Dolls) and other toys aimed at girls like Keypers and aimed at boys like Gobots, Rock Lords, Spiral Zone and Steel monsters. They were also the original manufacturers of the Pound Puppies toy line, and in the late 1980s were the U.S. licensees of products inspired by Maple Town, an animated series from Japan's Toei Dōga.
They have also produced a variety of computer games, including Tonka Raceway, and purchased the rights to distribute and market the Sega Master System after Sega of America decided to stop competing against the Nintendo Entertainment System in the U.S. However, the Master System's market share declined, since Tonka didn't have experience with video games or how to market them.
Hasbro sold the digital gaming rights for various properties (including My Little Pony, Magic: The Gathering, Tonka, Playskool, and Transformers) to Infogrames for USD$100 million in 2000, buying back the rights for USD$66 million in June 2005.
In 1964, Tonka acquired the Mell Manufacturing Company in Chicago, Illinois, allowing Tonka to expand into producing barbecue grills, eventually under the "Tonka Firebowl" label.
The Winifred Museum in Winifred, Montana has a collection of more than 3,000 Tonka toys, possibly the largest collection in the world, according to the museum.